The CEN Dedicated Short-Range Communication (DSRC) technology has been developed specifically to provide a reliable and effective communication means for traffic and transport applications in single lane and high speed multilane free flow environments.
Below are some examples of applications that use CEN DSRC:
Access control to restricted areas
Electronic parking payments
Compliance checking of tachograph and recording equipment of weights and dimensions for heavy goods vehicles
Emergency warning system for vehicles
Vehicle safety inspection
Transit or emergency vehicle signal priority
Commercial vehicle clearance and safety inspections
In-vehicle signing
Probe data collection
Highway-rail intersection warning
The CEN DSRC technology is designed to service multiple applications in parallel and the small service areas to facilitate compliance checking. The real-time constraints require a specific protocol architecture leading to the reduced communication protocol stack, consisting of the physical layer, the data link layer and the application layer on top of which the applications entity is located. The DSRC profiles define interlayer management aspects and coherent sets of communication tools for applications based on DSRC.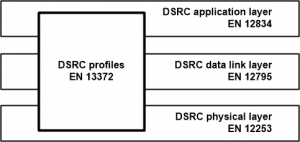 The CEN DSRC technology can be characterised by the following features:
high reliability, fast connection and low latency
capable of serving multiple applications in parallel
suitable for use in high speed single and multilane free flow systems
based on back scatter technology; transceiver units are typically installed at the roadside and semi-passive back scattering on-board units (OBUs) in the vehicles
small and constrained communication zones – typically 5-25 m
suitable for use by mobile interrogators, e.g. operated by law enforcement agencies
interrogator products support positioning of multiple OBUs (mounted in the vehicle) that are simultaneously within the communication zone, a key functionality in multilane free flow systems
supports point-to-point and broadcast communications
enables use of battery-operated OBUs (battery lifetime beyond 7 years) or OBUs connected to an in-vehicle power source
distribution of OBUs via mail and self-mounted OBUs
interoperable products
open and competitive market
operates in the 5,8 GHz band designated by the European Communications Office
The CEN DSRC technology has been adopted in the following European regulations:
CEN DSRC technology is used in more than 100 million OBUs all over the world. It is adopted as a basis for interoperable services in numerous national and international schemes, notably electronic fee collection schemes.
Overview of standards
CEN/TC 278 has produced the CEN DSRC requirements series of standards, whereas ETSI has produced the associated test specifications. The CEN standards can be purchased from via CEN National Members, whereas ETSI test specifications can be obtained via ETSI's web portal.
Click for a standard preview.
CEN DSRC Standards / ETSI test specifications
Toolboxes
Profiles
Tests
ETSI TS 102 486-2 Tests against 12834 Application layer
ETSI TS 102 486-1 Tests against 12795 Data link layer
ETSI EN 300 674-1 Physical layer tests against 12253
ETSI 300 674-2-1/2 Physical layer tests covering the essential requirements of the European Radio Directive