After more than two decades of development, Intelligent Transport Systems (ITS) are playing an ever greater role in increasing the efficiency of public and private transport, improving the driving experience and, most importantly, making a major contribution to road safety and reduction of energy consumption and pollution. ITS already controltraffic flow, collect road tolls, provide timely traffic and guidance information, safety advisory information, crash notifications, emergency vehicle prioritization, and 'infotainment'.
Well connected to European R&D

Cooperation between market players: industries, service providers, governments

33

 national members, with over 300 participating experts

158+ ITS standards in use (2019)

Established in 1992
CEN/TC 278 liaisons
ETSI TC ITS
The European Telecommunications Standards Institute (ETSI) produces globally-applicable standards for Information and Communications Technologies. ETSI and CEN cooperate in a number of fields where there is a common interest. The strategic coordination is handled by the ITS coordination group (ITS-CG).
ISO/TC 204 Intelligent transport systems
On a global level the corresponding standardization is handled by ISO/TC 204 'Intelligent Transport Systems'. A great deal of standards is developed in conjunction with ISO/TC 204. This cooperation allows for optimal use of available resources and expertise in both organizations. The figure below shows the alignment of the working groups.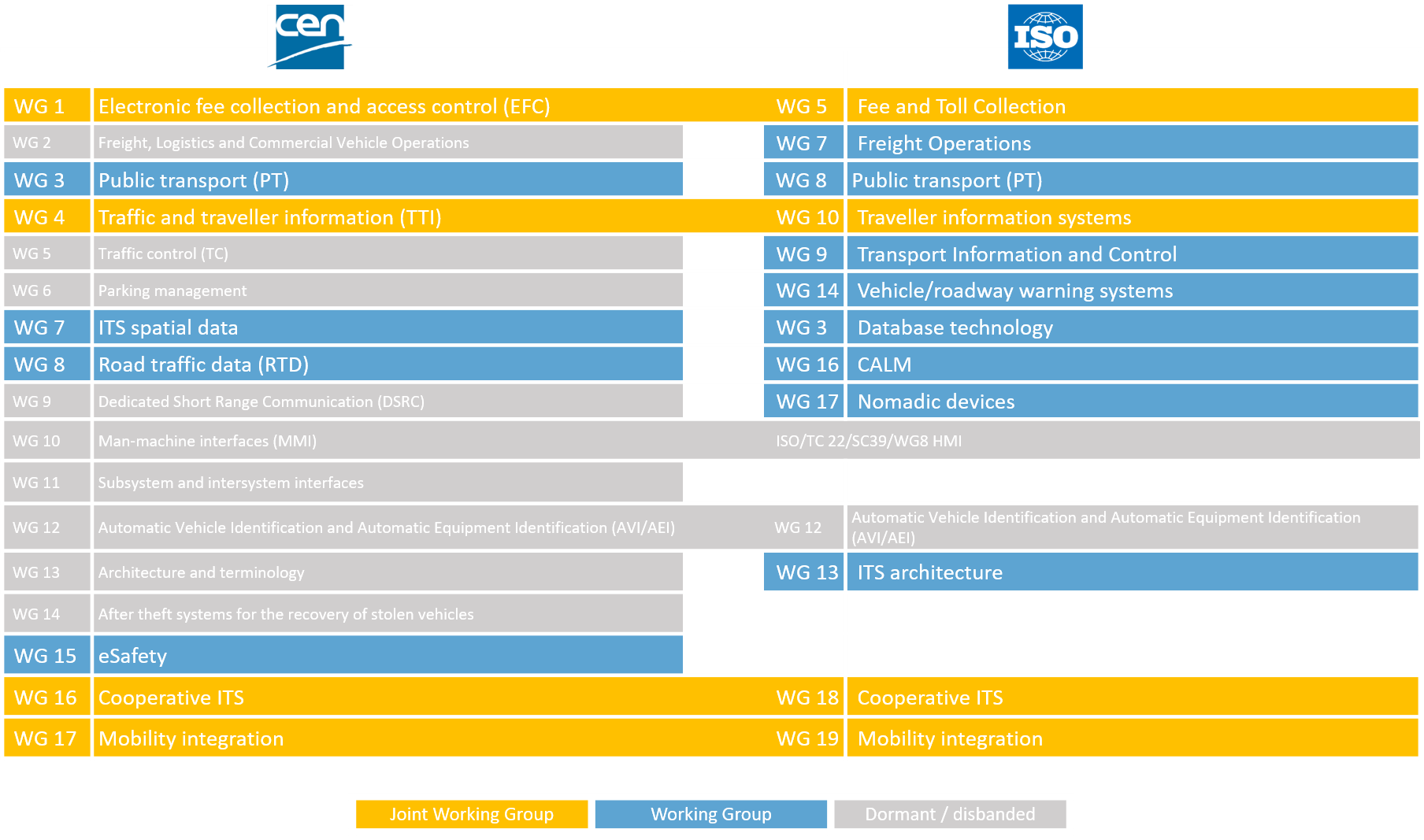 CEN/TC 278 and European legislation
Intelligent Transport Systems (ITS) can significantly contribute to a cleaner, safer and more efficient transport system. Consequently, ITS have become the focus of a number of policy and legislative initiatives in Europe. The European Commission has laid down the legal framework in order to accelerate the deployment of these innovative transport technologies across Europe. Furthermore, the European Commission has requested the European Standards Organizations to develop and adopt European standards in support of this legal framework. Not surprisingly there is considerable activity in this area by the standards organizations CEN, CENELEC and ETSI. The following documents are relevant for the standardization work in CEN/TC 278: